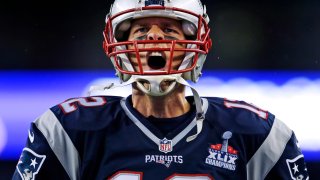 FOXBORO -- The Miami Dolphins came into Gillette Stadium for Sunday's Week 17 regular season finale and beat the New England Patriots 27-24 in the biggest upset of the 2019 NFL season.
A huge part of the Dolphins' surprising victory was their defense shutting down the Patriots' passing attack, particularly quarterback Tom Brady. 
"We didn't play the way we're capable of playing, and it ended up costing us," Brady said after losing to the Dolphins at home for the first time in his career. "Just too many bad mistakes."
LIVE stream the Celtics all season and get the latest news and analysis on all of your teams from NBC Sports Boston by downloading the My Teams App.
Brady completed only 16 of 29 pass attempts for 221 yards with two touchdowns and an interception. Former Patriots cornerback Eric Rowe returned that interception for a touchdown to increase Miami's lead to 10-0 in the second quarter.
"I could always do things better," Brady said. "So, I don't think there's one particular thing other than, obviously, I hate turning the ball over. But I just don't think we did a good enough job. I certainly didn't do a good enough job. We've got to do better next week."
The 42-year-old quarterback looked his age against the Dolphins -- missing badly on several throws despite pretty good pass protection throughout the game. Brady has battled a right elbow issue this season, which, at various times, has landed him on the injury report. He admitted after this loss, however, that he feels OK physically.
"Yeah, I feel good. I have no problems," Brady said. "So, yeah, no problems."
Neither Brady's performance nor the offense's showing as a whole will inspire much confidence in this team's ability to successfully defend its Super Bowl title. Sunday's loss means the Patriots will play on Wild Card Weekend for the first time since 2009, and this franchise has never won a championship without a playoff bye.
One of the keys for this team as it prepares for next weekend's playoff game is not looking too far ahead. The Dolphins' shocking win proved that any team is capable of beating the Patriots, even at Gillette Stadium, when Brady and the offense struggle to move the ball with any consistency or convert on third downs.
"I think we've got to think about trying to win one game, and not think about many things other than that," Brady said. "So, we didn't play the way we're capable. We got beat, and now we've got to play next week and we've got to play a lot better next week."