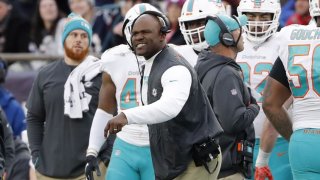 FOXBORO -- Brian Flores is building something special with the Miami Dolphins, and his team's incredible 27-24 upset win over the New England Patriots in Sunday's Week 17 matchup provided the most compelling evidence yet.
"Every win, and any win is a big one to me," Flores said. "That's a very good football team. Great coaches, great players. This is a tough environment. It's hard to win on the road in this league. So, our guys played hard, they competed for 60 minutes. It took all 60 minutes. And I'm proud of that group, I am proud of that group."
It was the Dolphins' first win at Gillette Stadium since the famous "Wildcat" game in 2008. Even if Flores won't admit it, the victory must feel extra special for him considering he spent about 15 years on the Patriots' coaching staff and won multiple Super Bowl titles with the franchise before leaving for South Beach in February. 
LIVE stream the Celtics all season and get the latest news and analysis on all of your teams from NBC Sports Boston by downloading the My Teams App.
"I think it meant a lot to him," Dolphins cornerback Eric Rowe said of his coach. "Not only because it is New England, but just as a first-year head coach with a lot of turnover of the team. We as a team are trying to reflect his coaching style of toughness, mental toughness, consistency and just keep playing strong no matter what happens throughout the season."
The Dolphins were the laughingstock of the NFL after Flores' first two games as head coach. They were beaten by the Baltimore Ravens in Week 1 and the Patriots in Week 2 by a combined score of 102-10. The Dolphins' historically poor start even prompted the Westgate SuperBook in Las Vegas to post betting odds on the team going 0-16. Miami eventually fell to 0-7, but unlike most teams that go nearly the entire first half of the season without a single win, this group didn't quit at all. 
Miami kept fighting and finished the season with a 5-11 record. The Dolphins went 5-4 over their last nine games, and what probably will surprise you most about that stat is the Patriots had an identical record over their final nine games. 
"The credit goes to the players, as well as, our coaching staff. These guys work hard and they fight and they compete," Flores said. "They believe in the process. They understand the way we have to prepare, the way we have to practice, the way we have to meet, the way we have to walk through. And I say it week after week, and our coaches say it week after week. I think they just started to believe in it. And when you string good practices, good days, you string them together, good results come. And that's what you have seen in the last nine, 10, 12 weeks. But I'm proud of that group."
Flores helped instill a tough, hard-nosed attitude in the Patriots defense throughout his tenure in New England, and you can see much of those same qualities in his Dolphins defense (and the team as a whole). It's easy to tell Flores has put an imprint on this Miami team.
"Yeah you can tell that watching film," Patriots safety Devin McCourty said. "You look at, since their bye week, they've been out there fighting, clawing. Won some games and even the games they've lost it's been down the stretch, tough games. We knew what we were getting, we knew they were going to be a scrappy football team that was going to come out here and battle and challenge on everything, and that's exactly what they did. They challenged us. They know us well, we knew that and we didn't step up to that. We didn't elevate our game and play to that. They out-toughed us, they outplayed us today and they got the win."
The Dolphins showed tremendous fight over the final two months of 2019, and their roster should quickly improve in the offseason. Miami has a boatload of draft picks over the next couple years, and this year's quarterback class headlined by LSU's Joe Burrow, Alabama's Tua Tagovailoa and Oregon's Justin Herbert could be a franchise-altering one for the Dolphins. They also could have close to $100 million in salary cap space when free agency opens in March. Top-tier free agents considering the Dolphins no longer sounds like a laughable idea.
The Dolphins are not a train-wreck, and Flores deserves a ton of credit for keeping his team's confidence high following an abysmal start. Most coaches who leave the Patriots and Bill Belichick don't enjoy much success with their own teams, but Flores has a pretty decent chance of being an exception given how well he's run the Dolphins after one season.
"With this team, the sky is the limit. Coach Flores does an excellent job getting us ready," Dolphins defensive tackle Davon Godchaux said. "I think 2020 has special things for the Miami Dolphins. Let's just build it one month at a time, one week at a time. Just keep going, keep getting better."