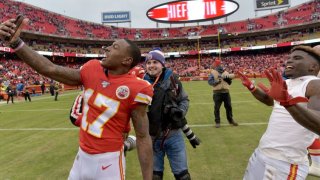 You didn't have to look very far to find the biggest Dolphins on Sunday afternoon. 
They weren't in south Florida; they were in Kansas City.
LIVE stream the Celtics all season and get the latest news and analysis on all of your teams from NBC Sports Boston by downloading the My Teams App.
Thanks to the Dolphins' 27-24 upset of the Patriots — Miami's first win in Foxboro since 2008 — New England and Kansas City finished the season with identical 12-4 records, but the Chiefs earned the No. 2 seed in the AFC while the Patriots fell to the No. 3 seed thanks to the Chiefs' Week 14 win in New England.
Andy Reid summed up the Chiefs' thoughts with this quip from the podium:
Patrick Mahomes had a short but sweet on-field reation to the Dolphins win, crediting Ryan Fitzpatrick for rallying Miami to victory: "It's Fitzmagic, man."
The Chiefs organization, players, and their fans had plenty more congratulations for their new favorite team on social media.