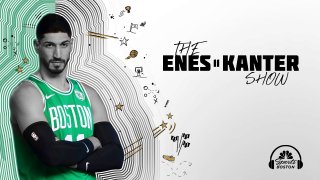 On his 25th birthday, then-Oklahoma City Thunder center Enes Kanter found himself in a lot of danger while on a trip to Europe.
Upon attempting to enter Romania, the 6-foot-11 big man's passport was rejected. He found out that the Turkish government had revoked his passport and he faced the possibility of being sent back to Turkey.
Had Kanter been sent back to Turkey, he likely would have been arrested for being an outspoken critic of the country's President, Recep Tayyip Erdoğan.
LIVE stream the Celtics all season and get the latest news and analysis on all of your teams from NBC Sports Boston by downloading the My Teams App.
Kanter detailed the full account of his journey back to American on a recent episode of "The Enes Kanter Show" podcast. And as he explained to Chris Forsberg, there was basically "nothing" he could do upon learning that his passport had been revoked. 
It was very dangerous because I'm not an American citizen yet, so the Romanian government could have sent me back to Turkey. Because I still count as a Turkish citizen. So as soon as I learned that, I was like, 'We gotta get out of this country. We gotta get back to America as soon as possible.'
From there, Kanter was able to fly to London as he attempted to make his way back to America. But along the way, his departure was delayed by police investigating that plane he was on. When he saw the two police, armed with machine guns, Kanter had one thought.
If these two police came for me, it was over.
Thankfully, they hadn't come for him, though Kanter did miss his flight back to New York because of the search of his plane. He had to stay at the airport overnight and managed to get on a flight back home in the morning.
Kanter discussed more of his journey back to America and also spent some time with Vincent Poirier, talked about Tacko Fall, and spoke about his family's life in Turkey on the latest episode of "The Enes Kanter Show", which drops every Wednesday on YouTube and the NBC Sports Boston podcast network.
Don't miss NBC Sports Boston's coverage of Celtics-Raptors, which tips off Wednesday at 11:30 a.m. with Celtics Pregame Live, and then Mike and Scal have the call at 12 p.m. You can also stream the game on the MyTeams App.