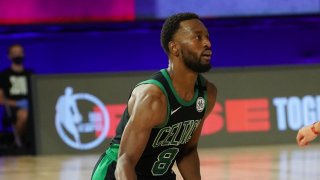 There's a clip of Kemba Walker mic'd up inside the bubble where he's sitting next to rookie teammate Grant Williams on the Boston bench and dispensing advice.
"Next shot, bro. Every time," said the ever-optimistic Walker. "Next shot, it's going in, bro. Trust me. You good."
It's clear Walker practices what he preaches. He missed his first eight shots in Tuesday's Game 2 against the Raptors and was just 2-of-14 shooting entering the fourth quarter.
Next shot? Going in.
Walker made all four shots he took in the final frame, highlighted by a UConn-esque stepback over a skidding Serge Ibaka with 41.6 seconds to play that sealed a 102-99 triumph and gave Boston a commanding 2-0 series lead.
The Celtics haven't played a lot of nail-biters early in their postseason voyage but Walker has essentially been perfect when they have. In 10 minutes of crunch-time play — score within five points during the final five minutes — Walker is a perfect 4-of-4 shooting overall and 5-of-5 at the free-throw line for a total of 14 points.
The seven other players that Boston has utilized in crunch time this postseason are a combined 2-of-10 shooting with 16 total points (thanks to 11-of-12 shooting at the free throw line). Jaylen Brown is the only other player with a crunch-time field goal.
Three of Walker's four crunch-time makes came at his midrange sweetspot. That includes a stepback over Al Horford to clinch Boston's Game 3 victory over the Philadelphia 76ers. On Tuesday night, Walker also made a key pull-up 3-pointer with Boston clinging to a one-possession lead with little more than two minutes to play in Tuesday's triumph over the Raptors.
He never lets his last shot affect the next one.
"I've missed so many shots in my life. I have missed so many shots throughout my career. I'm never going to get down on myself," Walker said of shrugging off early Game 2 struggles. "I'm going to find ways to help my teammates. … Down the stretch, just staying confident."
Added coach Brad Stevens: "I don't think you can say enough about that. That's the part – an unwavering confidence where, if you continue to do the right thing, the ball will find the net. I'll tell you what, Kemba's shots were huge."
Celtics Talk Podcast: Raptors reeling; are C's title contenders? | Listen & subscribe | Watch on YouTube
Much has been made this season about the way that Walker has selflessly ceded the spotlight to Boston's younger players like Brown and Jayson Tatum. The 30-year-old Walker has said he's perfectly content to be a decoy on a final play so long as the Celtics emerge with the win.
But it's quite the luxury for the Celtics to have a player with Walker's confidence who can take over in the fourth quarter when his team needs him. Especially on the big playoff stage that has often evaded Walker during his decade in the NBA.
The Celtics have outscored opponents by 18 points in crunch-time situations during these playoffs, thriving with the troika of Walker, Brown, and Tatum on the floor. But it's Walker shouldering the offensive load in those moments.
Even when teams try to exploit his size, defensively, Walker makes up for it with his effort and grit. And that effort rubs off on his teammates.
"When you got your point guard setting the tone for you, it's contagious and makes everybody else kind of be like — he's the smallest guy on the court but he has one of the biggest hearts," said Marcus Smart. "When you got a guy like that, you always want to be on his team so you always know you have a chance to win. When Kemba's playing like that, we always feel like we have a chance."
Walker was a distant second to Tatum in Boston's crunch-time makes during the regular season. In fact, Walker shot just 34.8 percent overall in those situations (he did shoot 41.4 percent beyond the arc). The Celtics have often tried to put the ball in Tatum's hands when it matters most, his size offering the best chance to produce a good shot. But when defenses put more of their energy into slowing Tatum, it only loosens things up for Walker.
And Cardiac Kemba — Walker's late-game alter ego — always seems ready for that moment, no matter how he's played before it. As his shooting stats suggest, he's been perfect for Boston.