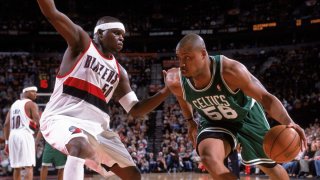 Former NBA player Brandon Hunter died Tuesday at the age of 42.
Hunter, who played for the Boston Celtics and Orlando Magic during his brief career, collapsed during a hot yoga session at an Orlando studio, according to his mother-in-law Carolyn Cliett.
"It was hot yoga, and he did it regularly," Cliett told NBC News. "He was in good shape as far as we know. We're just shocked."
The Celtics selected Hunter out of Ohio University in the second round of the 2003 NBA Draft. The 6-foot-7 power forward averaged 3.5 points and 3.3 rebounds in 36 games played during the 2003-04 season with Boston.
Hunter was left unprotected by the Celtics in the 2004 NBA Expansion Draft and selected by the Charlotte Bobcats. He never played for the Bobcats as he was subsequently traded to the Magic.
The Magic released a statement on Hunter's death on the X platform.
Ohio University coach Jeff Boals also released a statement on Tuesday.
"We are deeply saddened to hear of the passing of Brandon Hunter. Brandon was a phenomenal player at Ohio who went on to have a great pro career," Boals said.
"Brandon was a great ambassador for Ohio, a great teammate, a great competitor, and a great family man. Brandon had an infectious personality that touched many people along his journey and will be truly missed."
After his two-year NBA tenure, Hunter played overseas in Greece, Italy, Israel, France, and Uruguay. He officially retired from basketball in 2013.
The cause of Hunter's death was not immediately disclosed.