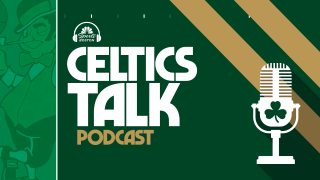 Want to get into a heated debate with your family members this holiday season?
If they're Boston Celtics fans, just pose this question: Who is your "starting five" C's team of the last decade (2010 to 2019)?
It's a tricky exercise, considering the last 10 years cover several very different eras in Celtics history, from the end of the "Big Three" to an Isaiah Thomas-led resurgence to the soap opera that was Kyrie Irving's two-year tenure.
On the latest episode of NBC Sports Boston's "Celtics Talk Podcast," Kyle Draper, A. Sherrod Blakely and Chris Forsberg hashed out their "All-Decade" teams -- and Draper raised eyebrows by including Irving on his starting five along with Isaiah Thomas, Paul Pierce, Kevin Garnett and Al Horford.
LATEST CELTICS TALK PODCAST: C'S ALL-DECADE TEAMS
Here's Draper's explanation:
I'm talking about the numbers. Look at the numbers Kyrie put up in the city of Boston. You cannot argue with the regular season he had his final year: 23.8 points, close to seven assists, five rebounds, 40 percent from three. He was must-see TV every single night.
Forsberg and Blakely were quick to point out Irving's stat-padding didn't get the Celtics anywhere: The team won just one playoff series when he was healthy and reached the Eastern Conference Finals without him in 2018.
In fact, Forsberg was so shocked by Draper's selection that he almost caused a car crash.
I got in my car and saw the email ... and saw Kyrie (on your list) and I nearly drove into the median because I was so taken aback.
Needless to say, Forsberg and Blakely didn't have Irving in their "All-Decade" backcourts. Check out the full "Celtics Talk Podcast" episode on the NBC Sports Boston podcast network to hear them break down their starting fives, and stay tuned throughout the week to NBCSportsBoston.com, where we'll also break down the Celtics' top five draft picks of the decade and best moments of the decade.
Don't miss NBC Sports Boston's coverage of Celtics-Raptors, which tips off Wednesday at 11:30 a.m. with Celtics Pregame Live, and then Mike and Scal have the call at 12 p.m. You can also stream the game on the MyTeams App.