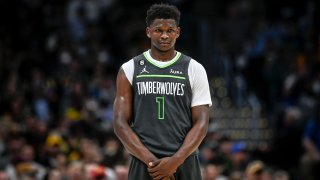 Minnesota Timberwolves star Anthony Edwards was cited for third-degree assault after allegedly swinging a folding chair that struck and injured two female Ball Arena employees, the Denver Police Department confirmed to multiple outlets on Wednesday.
The alleged incident came after Minnesota's season-ending Game 5 playoff loss to the Nuggets in Denver on Tuesday night.
Edwards immediately ran off the court after missing a potential game-tying 3-pointer at the buzzer. Police say he then swung a folding chair that hit two female employees. The employees were not seriously injured, according to police.
The citation says Edwards is due to appear in court on June 9 in Denver, according to the Star Tribune. Third-degree assault is a class one misdemeanor in Colorado. Edwards faces possible jail time and a fine of up to $1,000 if convicted.
The Timberwolves released the following statement: "We are aware of the alleged incident regarding Anthony Edwards following Game 5 in Denver and are in the process of gathering more information. We have no further comment at this moment."
Edwards, 21, was selected No. 1 overall by the Wolves in the 2020 NBA Draft.