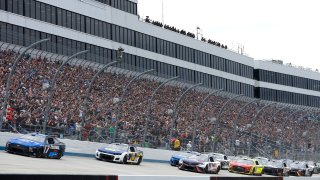 After a hectic race at Talladega Superspeedway, the NASCAR Cup Series now heads to a track known as the "Monster Mile."
Dover Motor Speedway, a one-mile, high-banked concrete oval in Delaware, has been the site of some chaotic races in recent years. The track has hosted NASCAR races annually since 1969.
Here's everything you need to know for the Würth 400 at Dover:
What is the NASCAR at Dover starting lineup?
Thirty-six drivers will race this weekend at Dover. The usual drivers are all competing – outside of Alex Bowman, who will miss his first race of the season after suffering a fractured vertebra while competing in a sprint car event (non-NASCAR race) on Tuesday.
Xfinity Series regular Josh Berry will fill in for Bowman while he recovers. Berry ran five races while filling in for Chase Elliott earlier this season after he suffered a broken leg in a snowboarding accident. Elliott returned two weeks ago at Martinsville Speedway.
Practice was held on Saturday, but qualifying was canceled due to rain and the lineup was set based on NASCAR's qualifying metric. Here's the starting order for the race:
Kyle Busch, No. 8
Christopher Bell, No. 20
Ryan Blaney, No. 12
Brad Keselowski, No. 6
Chris Buescher, No. 17
Chase Briscoe, No. 14
Tyler Reddick, No. 45
William Byron, No. 24
Ricky Stenhouse Jr., No. 47
Chase Elliott, No. 9
Erik Jones, No. 43
Kevin Harvick, No. 4
Denny Hamlin, No. 11
Ross Chastain, No. 1
Daniel Suarez, No. 99
Ty Dillon, No. 77
Martin Truex Jr., No. 19
Kyle Larson, No. 5
Aric Almirola, No. 10
Austin Cindric, No. 2
JJ Yeley, No. 51
BJ McLeod, No. 78
Josh Berry, No. 48
Ty Gibbs, No. 54
Justin Haley, No. 31
Joey Logano, No. 22
Corey LaJoie, No. 7
Bubba Wallace, No. 23
AJ Allmendinger, No. 16
Ryan Preece, No. 41
Harrison Burton, No. 21
Michael McDowell, No. 34
Noah Gragson, No. 42
Brennan Poole, No. 15
Todd Gilliland, No. 38
Austin Dillon, No. 3
When is the NASCAR race at Dover in 2023?
The Würth 400 was set for Sunday, April 30 at 1 p.m. ET, but it was postponed to Monday, May 1 at 12 p.m. ET due to rain. This is the second straight year at Dover that rain has pushed the race to Monday.
There was a practice session on Saturday before rain canceled qualifying, with Keselowski, Larson, Byron, Elliott and Cindric posting the fastest practice laps.
What is the NASCAR weekend TV schedule at Dover?
Monday, May 1 (FS1 and streaming)
Who are the past winners at Dover?
Elliott is the defending winner at Dover, as he led 73 laps en route to victory at the track last May. It was Elliott's second career win at Dover.
Beyond him, there are three other multi-time winners at Dover racing this weekend: Busch, Truex and Harvick with three wins apiece. Three other drivers have one win at Dover: Keselowski (2012), Larson (2019) and Hamlin (2020).
Who are the favorites for Dover Motor Speedway?
The best of the best often perform well at Dover.
Unlike wild-card tracks of Talladega and Daytona, you can often look for the traditional contenders to dominate at the Monster Mile. Dating back to 2009, 24 of the last 26 races at Dover were won by a championship-winning driver. The only exceptions were Hamlin in 2020 and Bowman in 2021 – and, as aforementioned, he won't race Sunday due to injury.
Among drivers with at least five career starts at Dover, the best performers at the track are Larson (6.9 average finish in 14 starts), Elliott (9.8 in 12 starts), Truex (11.8 in 32 starts) Harvick (12.9 in 42 starts) and Keselowski (13.1 in 24 starts).
Here's a full look at the favorites to win at Dover, courtesy of our partner, PointsBet:
Kyle Larson, +380
William Byron, +650
Chase Elliott, +700
Denny Hamlin, +750
Martin Truex Jr., +850
Christopher Bell, +1000
Kevin Harvick, +1100
Ross Chastain, +1100
Kyle Busch, +1500
Brad Keselowski, +2000
Ryan Blaney, +2000
Tyler Reddick, +2200
Joey Logano, +2200
Chris Buescher, +3300
Josh Berry, +3500
What is the weather for NASCAR at Dover this weekend?
There are no rain tires available for Dover Motor Speedway and the track does not have lights, which made for a tight window to the race in on Sunday. Luckily, things are looking clear for the rescheduled time on Monday.
NBC Philadelphia is expecting sunny skies in the morning before clouds later on Monday, but just a 5% chance of rain. Temperatures could reach a high of 62 degrees in the afternoon.
Editor's note: All odds are provided by our partner, PointsBet. PointsBet is our Official Sports Betting Partner and we may receive compensation if you place a bet on PointsBet for the first time after clicking our links.